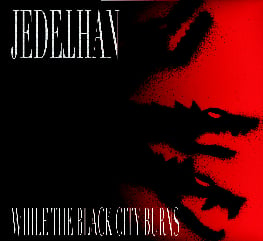 €

5.00 - On Sale
"While The Black City Burns" is the first LP recorded by London based Noise-Rock-Punk band : JEDETHAN!
If you like, Kyuss, Refused, At The Drive-In, Converge, have a go on them and enjoy the surprise!
"London's best kept secret!" Rock Midgets.Com
"This is a good band who can combine catchiness with franticness and pull it off quite smoothly and at a standard that puts them a fair distance ahead of other bands in this genre." UK Metal Underground
"These guys don't play stages, they play venues!" Mike, FairPlayGigs
"Jedethan are the best new heavy band I've heard in ages." Frank Turner
"You'd be well advised to check out these promising newcomers." Rock Midgets.com review of October 09's split 10"
"A bruising bastard of a cut it has to be said laced aplenty with an acutely agitated aggression that ruptures to scathing effect blessed as it is with a front line armoury of lacerating needle picked math contortions that rampantly unravel to jar and jab viciously amid your headspace as though a bloodied last man standing face off between Part Chimp and Jesus Lizard was at play. Caustic stuff young folk." Sunday Experience review of Myspace player tracks.
MUSICAL BRIDGE
www.myspace.com/musicalbridge
www.twitter.com/musicalbridge
www.facebook.com/musicalbridgelabel
www.musicalbridge.bandcamp.com
CROSSING THE RUBICON
www.myspace.com/ctrparis
www.facebook.com/ctrparis
JEDETHAN
www.myspace.com/jedethan
www.facebook.com/jedethan
www.jedethan.bandcamp.com